Consul, the Educated Monkey is Back!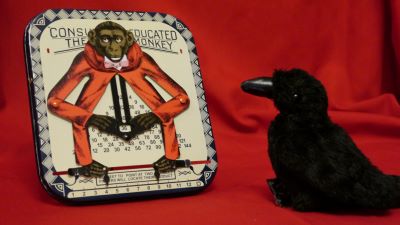 Little Crow is thrilled to have one of our most favorite toys back in stock.

The Consul the Educated Monkey toy is named after a popular trained monkey who toured Europe and England in the early 1900's. In 1909 he starred in the movie, "Consul Crosses the Atlantic" which documents his trip on a steamship to America.

This is a replica of an original toy from 1916. Consul helps you learn your multiplication tables. Place one of his feet on one number you want to multiply, the other food on the other number. He will indicate the result between his hands. This toy is on display at the American Computer Museum and appears in the shop in the movie "Hugo".
A fun and educational tin toy!
Come take a look at our Castle and see all the fun!

We offer free gift wrapping.  Just mention it in the comments at checkout.